Italy Wana brand underwear Shanghai Nanjing Road counter grand opening
August 2011, Italy Wana brand underwear Shanghai Nanjing Road 353 Plaza counters grand opening! Italian Wana's new products have been loved by the local customers! Italian Wana INVARIA-Badeba apparel underwear company underwear brand underwear design, production, retail sales as one integrated products related to bras, underwear, casual wear at bedtime , thermal underwear and so on.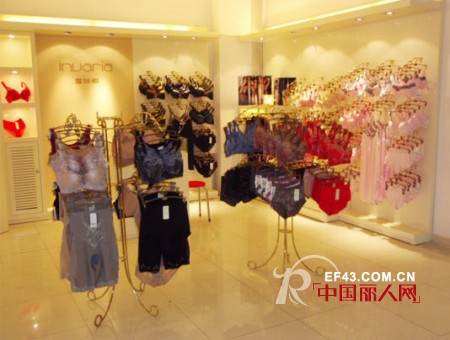 To the fashion capital of the product development and marketing center of the Italian brand Wanna, with a dedicated design team, high-quality manufacturing standards, fashion and luxury underwear sense of natural flexibility and comfort, is the Italian-wanna create the pursuit of products , Sexy and not vulgar, gorgeous and elegant, high school and not expensive is the positioning of Nana products, Italy Vina underwear with its unique products and connotation, Italian Wina underwear continue to win the favor of consumers, more and more Cater to the pursuit of ladies of the times.
Italian Wana brand underwear Embroidery lace embroidery-based decoration, Italian Wina underwear pursuit of fashion and comfort, the use of lace fabric to create a sexy and elegant quality, composed of a unique style. Italian Waina underwear designer's concept and design is drawn from the natural beauty, the women's favorite graphics, colors and other rich elements of the artistic element, Italian Waya fashion lingerie cleverly constitute a section of exquisite underwear, combined with the spring, summer, autumn and winter Season, Italian Wana INVARIA form a variety of taste taste popular series.
Satin, a fabric with a usually shiny surface, but with a dull back.The use of satin is very broad, the fabric feels upright direction will feel very slippery.It has a good reflection effect. Therefore, it is often used for bed cover or quilt cover, as well as some summer dress, dancing dress and qipao.Generally speaking, the material used for coloring is mainly polyester, and of course silk and blended are more.And the material of general prevent bask in clothes also some use satin, can use with make dress pants, skirt or cap, use prevent bask in.But because the breed of satin has a lot of, have a few difference such as thin thick, norms, so want to decide to make what to make according to the cloth itself, according to your need, play originality, Satin Fabric is sturdy, durable, and color-retentive. The soft and attractive fabric is ideal to make apparel for special occasions like blouses, skirts, and evening gowns.
Satin Fabric
Satin Fabric,Polyester Satin Fabric,Satin Stripe Fabric,Satin Stretch Fabric
Changxing Jinqi textile.Co.,Ltd , http://www.jqfabric.com